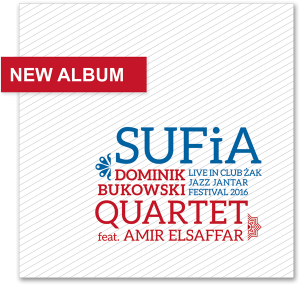 Biography
DOMINIK  BUKOWSKI
Jazz vibraphonist, composer, born in 1977. In 1996 he graduated musical college in Elblag, then studied at Music Academy of Gdansk (instrumental faculty).
In 1998 he continued his studies at jazz music department of Music Academy of Katowice, where he graduated in 2002.
In 1999 him & his band Blue Mind Quartet were singled out for special praise in "Ogolnópolski Przegląd Młodych Zespołów Jazzowych i Bluesowych" in Gdynia. In January 2002 the band received first prize in a prestigious competition Bielskiej Zadymki Jazzowej in Bielsko-Biala and Dominik was presented with a statuette "Jazz Angel 2002" and also had their first album produced and released.
Since 2003 till 2012 he has been awarded second place in a Jazz Top review from Jazz Forum magazine in "Vibraphone of The Year" category.
He was nominated for the" Grand Prix Jazz Melomani 2003″ in the category "Hope of Music Connoisseur 2003" and "Storm of 2005" by Gdansk edition of Gazeta Wyborcza daily. He was also nominated by "Dziennik Baltycki" in a plebiscite "Man of the Year 2005".
His album "Projektor" was rated one of the top ten albums of 2005 by the Jazz Forum magazine and in 2010 his last record ,,Vice Versa? was nominated for the FRYDERYKI Award. In 2013 "Kropla Słowa", the album of Krystyna Stańko in which Bukowski composed most of the music, was chosen as the best album of the year by Jazz Forum magazine. Also as a sideman he was awarded The Gold Disc for "Melisa" of Przemek Dyakowski. In 2011 he received Artistic Award from the Marshal of the Pomorskie Voivodeship.
Dominik Bukowski plays and records with musicians such as: Tim Hagans, Cikada Quartet, Brian Melvin, Ulf Adaker, Gus Dahlberg, Janusz Muniak, Leszek Możdżer, Piotr Wojtasik, Maciej Sikała, Zbigniew Namysłowski, Jan ?Ptaszyn? Wróblewski, Jacek Kochan and others.
He has performed at many polish jazz festivals and also abroad (Israel, Greece, Norway, Belgium, Sweden, Russia, Finland, Germany, Romania, Moldavia, Latvia and Estonia). Dominik Bukowski is also the composer of music to few theatrical and choreography performances.
Together with wife Anna has opened private music school ,,VIRTUO" in Gdynia.
Instruments
Vibraphone ADAMS, model Artist Alpha
Marimba BERGERAULT, 4 1/3, Honduras Rosewood Keys
Xylosynth XS6-3, Wernick
Downloads
---